An Evening With Mel Tari
August 13, 2016
Thursday evening [August 11, 2016], I received a text from Mel Tari. He was in North Texas to do a meeting in a home. He asked if I could attend. Kathie D and I drove for about thirty minutes to the home where they were doing the meeting last evening. There were twenty-four in attendance. We were able to spend some time with Mel and his wife, Joy. There was prayer, worship and then Mel spoke for about an hour. It was a good time together and I enjoyed it.

I met Mel Tari (author of the book, "Like a Mighty Wind') in Plano in 2000. He returned to Plano in January 2001 along with Bartholomew Manjoro and the three of us did several television one hour programs together. At that time I was on 25 television stations, several of them 5 hours per week.
A major earthquake occurred on December 26th of 2004 just west off the coast of Sumatra, Indonesia. That earthquake caused the single worst tsunami recorded in history, with a death toll estimated at 170,000 people in Indonesia alone.
Mel Tari's ministry got in touch with our ministry, because he grew up in that country. Mel left for Sumatra on January 8th and returned on the 12th with video documenting the destruction. We began taking contributions for Indonesia on our television broadcast and received $160,117 in donations. We turned all the money over to Mel Tari's ministry and he in turn sent it for distribution in Indonesia.

March 5, 2005 Mel Tari, Welmientje Margaretha Tari (Mel's sister), and Peter Payouw arrived in Plano to do a series of meetings at Water of Life. The meetings were from Sunday through Wednesday. Mel's sister has been a missionary for 50 years in Indonesia, and Peter was a former pastor and the former head of the department of Christianity for the nation of Indonesia. He has since gone to be with the Lord.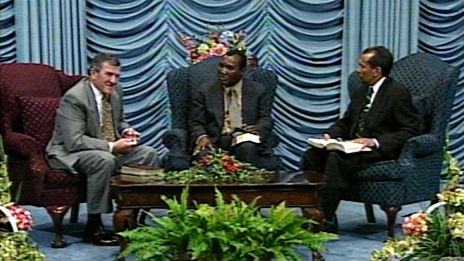 Doyle, Batholomew Manjoro and Mel Tari - 2001
God bless you,
Doyle Davidson
kd/kc