James Madison Davidson
August 27, 2012
Doyle's great-grandfather, James Madison Davidson was born in Illinois—Modesto, Macoupin County in 1834. He grew up on his parents' farm with many siblings. According to A History of Jasper County, Missouri, James had a limited education in the common schools and also learned the trade of carpenter.
He married Louisa Norvell in 1858 in Macoupin County where she was also born and raised. He moved with his family to Jasper County, Missouri in 1867 and they settled 2-1/2 miles west of Sarcoxie where he farmed 240 acres.
The biography in the county history describes James' property as "a splendid farm of 260 acres, well fenced, in fine cultivation, good residence, barn, and other out-buildings, yard set with shade and ornamental trees, etc." Doyle was born on the adjacent property to the farm and remembers the house as a large two story white house with a big verandah porch facing north and he remembers a large red barn. The farm is listed on an 1895 Plat Map of Jasper County.
James was not only a farmer, but also a house builder and Lyle Davidson (James' grandson) moved a large home for a man who told him it was built by James. According to family tradition, he cultivated 100 acres of strawberries which Doyle learned of just a few years ago from an uncle and it was confirmed recently by his cousin.
The climate and soil of southwest Missouri was conducive to growing many types of fruit along with strawberries being the major crop. There were orchards of peaches, apples, plums, cherries, etc. and acres of raspberries, blueberries, just to mention a few and also many types of flowers. Early on the growers formed associations to share ideas and information that was beneficial to the industry. As their markets expanded, transporting a highly perishable product long distances was one of the challenges. Refrigerator cars were just coming into existence, and the associations were able to "hire" refrigerator cars which were basically an insulated box car that had ice bunkers to keep the shipped product cool.
One of those co-ops was the Sarcoxie Horticultural Association. During the most productive years, the association had over 200 members. In dealing with the banks as a co-op, arrangements were made to provide special "picker checks" in three different denominations. The checks were in a form of a token and each token was sized to represent the amount of berries picked: the first (nickel-sized), represented one quart of strawberries, the second (about the size of a quarter), a tray of strawberries and the third size (the size of the "Piece" dollar coin) was representative of a crate of strawberries. The pickers would turn in their harvested strawberries and receive the appropriate number of picker checks, which they could then redeem for cash, goods or services by any town bank or business.
This arrangement with the banks provided the grower with credit, prior to their crops being sold and maybe more importantly, the growers didn't have to have cash on hand to pay their pickers. Once the cooperative had sold the crop and paid the members their share of the earnings, each farmer would settle with the bank for the value of the picker checks, plus interest.
There were other county horticultural associations, including the Sarcoxie Gandy Fruit Growers Association of which James was a member and according to the annual state report, served as president for at least two years in1900 and 1901.
James Davidson, along with many others, was influential in putting Sarcoxie, Missouri on the national stage of fruit growers. Because of the perishable nature of produce and lack of means to transport it in a relatively short amount of time over long distances, their markets had always been confined to the local area where it was grown. These farmers saw many changes with the advance of the railroad and refrigerated cars giving them a larger, more competitive market.
Fruit growing is very labor intensive, even today, so consider for a moment what it must have been like then. All the preparation of the soil and cultivation was done with teams, every plant was set and tended by hand and the harvest was also by hand. It wasn't a business for the faint of heart—hard work and diligence, attention to detail were required.
James was considered in the community as "a man of good business qualifications…" and it was also stated that he took "great interest in matters educational, political and otherwise." He and his family were members of the Methodist Episcopal Church. Though there are few family stories about him and fewer written records, it seems obvious he was a simple, hardworking man who was respected by his neighbors and peers.
Text of James M. Davidson biography taken from "History of Jasper County"
James M. Davidson Obituary / James M. Davidson Death Certificate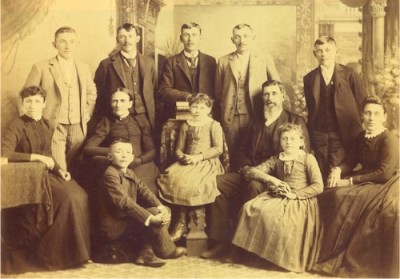 James M. Davidson Family
Note: Though "The History of Jasper County" states J.M. Madison farmed 260 acres, his obituary and the plat map reflects 240 ac.
Sources: History of Jasper County (1883); Sarcoxie Recorder
kc 9/29/2016