God's Honor on the Mayflower Passengers and Their Descendants
Posted June 12, 2010
Doyle asked me to write an account of the worship meeting of Friday, June 11, 2010. The following is what I witnessed as I joined in from Colorado and what Doyle experienced as he recounted it to me. He opened the Live Stream broadcast ministering the gospel and spoke of the honor of God on his life to preach the gospel to the world. He said, "It is a great blessing on my life to be ordained of God as a prophet from my mother's womb to preach the gospel to the poor, to the world. It is a magnificent blessing what God has done in my life and what He is doing in those He has brought together with me. I am well honored and pleased."
David Kaspareit received his certificate of membership into the General Society of Mayflower Descendants and Doyle asked him to share briefly about it. David said his certificate came in the mail that day and he showed his certificate and read the Societies mission statement which is as follows: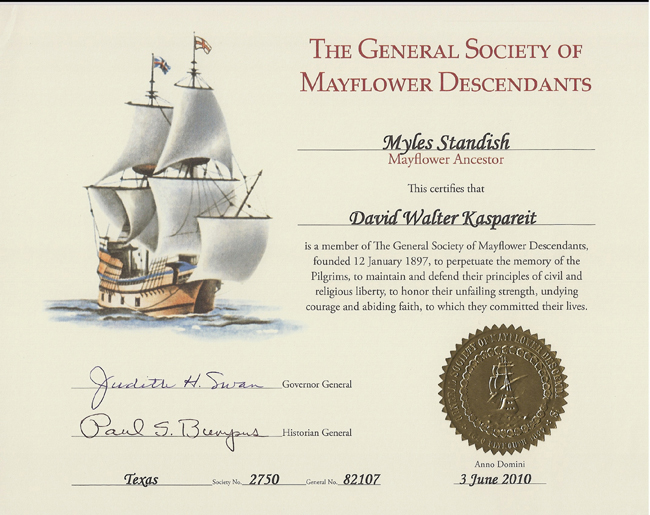 Doyle thanked God for raising David up to walk with him. He said, "David is thirty years old; I remember when I was thirty. I haven't changed, if you think I have. I have the same zeal, the same ambition, the same strength, today at seventy-eight as I did when I was thirty." Doyle then asked the worship leaders and musicians to come forward to begin worship. Daniel Brown, Brian Stiles and Basil Clark ministering with the CD recording of Terry Mai and accompanied by Kay Clark on the piano, David Brown on the bass and Evan Small on the drums, led the saints in worship. As the dancers worshipped in the dance and the men walked and everyone lifted up their voices in praise to the Father and our Lord, Doyle said the power of God continued to increase until it was so strong he was prostrate on the carpet. Throughout the song, His Name is Higher and part way through Lift Your Hands and Praise His Holy Name, he remained on his face before the Lord, the power of God upon him with strong shaking and weeping. As he rose to his knees and stood up, he was strong in the Lord and the power of His might.
The Mai Girls stepped up to lead worship for the remaining ten minutes and then in closing, Doyle ministered these words:
"I want to thank God for His honor, His power that He showed forth this night, in this sanctuary toward those that were on the Mayflower and their descendants. God Bless you all, love you, Good night."
As Doyle and I talked about what he had experienced he said, "Tonight was one of the most beautiful honors I have ever seen God do, and it was his honor on those who came over on the Mayflower and their descendants."
God Bless,
Kathryn Currier
| | | | |
| --- | --- | --- | --- |
| | | | |
| Live Broadcast Date: | | Audio | Video |
| Friday, June 11, 2010 | | | |