Donald Walker White's Memorial Service Bulletin
As you know my fellow classmate from the University of Missouri School of Veterinary Medicine class of 1962 and my study partner for years just recently passed away.
Don and I have had several conversations over the last year.
I made sure I heard him say that he knew he would be with the Lord, which is where he is now.
I was not able to attend his funeral, but his wife, Doris, sent me the Memorial Service Bulletin.
I was pleased to read it.
The order of service was as follows:
Opening Prayer
Scripture, Psalm 23 and Psalm 121
Reading of the Obituary by Grandson, Caleb Thomas
Hymn, Amazing Grace
Scripture, Ecclesiastes 3:1-8
Eulogy by Grandson, Caleb Thomas
Scripture Reading, John 14:1-3 and Acts 2:20-21
Message by Nephew, Ron France
Closing Prayer
Amazing Grace!
Amazing Grace, how sweet the sound, that saved a wretch like me.
I once was lost but now am found, was blind, but now I see.
Yea, when this flesh and heart shall fail, and mortal life shall cease,
I shall possess within the veil, a life of joy and peace.
When we've been here ten thousand years bright shining as the sun.
We've no less days to sing God's praise than when we've first begun.
This afternoon Kathie and I received a thank you card from Doris for the flowers with this added note: Don was so happy you got in touch with him after all these years.
Let's keep in touch, Doris and family.
We certainly will.
DONALD WALKER "DOC" WHITE, DVM
December 16, 1930 - July 27, 2012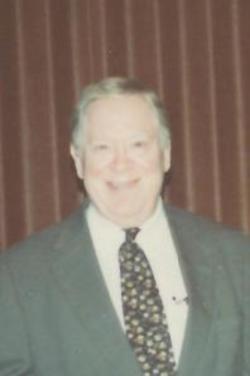 White, Donald Walker "Doc", DVM of Lake St. Louis peacefully passed Friday July 27th 2012.

Born on December 16th, 1930 in New York City, raised in Excelsior Springs MO & Kansas City MO. Son of the late Almus Jeremiah White and Agnes Walker Kirk, brother of Eugene C. White. Dr. White served our country in the United States Navy from 1949-1950 on the U.S.S. Gunston Hall and again from 1951-1953 on the U.S.S. Walke during the Korean War. Don went on to receive his doctorate in Veterinary Medicine from the University of Missouri, Columbia as an Honorary member of the Alpha Zeta fraternity in 1962. He moved to St. Louis and worked for the Belkin Animal Hospital and in 1968 he opened his own clinic in Black Jack, the North County Animal Clinic. He served on the Black Jack city council from 1974-1994. He was also an ordained elder at Nelson Presbyterian Church and was a member of the Masonic A.F. & A.M. Lodge of Bridgeton, and also of the Scottish Rite Freemasonry. In retirement he moved to Lake St. Louis where he was involved with his community. He volunteered with the Red Cross for several years involving himself in things such as our Nations Tragedy of September 11th, and various other national disasters. He was a friend to all that knew him, devoted to his family, and displayed a joy of living. He is survived by his wife Doris. Beloved father of Julie and Gretchen. Grandfather of Caleb , Johanna, Aliyah, Rebekah and Lukas. Great-grandfather of Kyla and Carter. Dear brother-in-law, uncle, cousin and friend to many. He was an inspiration and will always be remembered as the backbone of his entire family.

Services: Memorial service at the SCHRADER Funeral Home and Crematory, 14960 Manchester Road at Holloway, Ballwin, Friday, 11:30 a.m. Interment Jefferson Barracks National Cemetery. If desired, contributions may be made to American Red Cross. Memorial visitation Friday 9:30 a.m. until time of memorial service. Friends may sign the family's on-line guestbook at Schrader.com.
Facts
Born: December 16, 1930
Place of Birth: Manhattan, New York
Death: July 27, 2012
Place of Death: Chesterfield, Missouri
Services
Memorial Service
Friday August 3, 2012, 11:30 AM at Schrader Funeral Home and Crematory
Click for Map and Directions
Interment
Friday August 3, 2012 at National Cemetery